Search for Michelin tyres

Recommended Michelin tyres
Michelin car tyre
The NEW MICHELIN CrossClimate tyre offers the advantages of summer tyres in wet braking, dry braking, longevity & fuel efficiency and the advantages of winter tyres in traction and braking for consumers driving in cold or occasional snowy conditions. With the simplicity of only one set of tyres all year long!
Michelin SUV & 4x4 tyre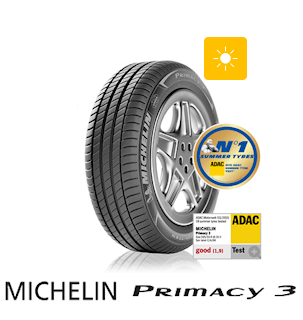 The MICHELIN Primacy 3 offers the perfect combination of safety, longevity and comfort.
Excellence in Dry Braking
Excellence in Wet Braking
Excellence in Wet Cornering
No.1 overall in the 2015 ADAC summer tyre tests.
Michelin winter tyre
MICHELIN Aplin 5 - safety & mobility even in severe winter conditions.
Excellent on dry, wet and snow and with MICHELIN Total Performance, more performances brought together.
All Michelin tyres